For setting/customisation you need to choose Appeareance - Customize, here you can add logo, add extra css custom, add widgets and many more. Video: https://screencast-o-matic.com/watch/cFhjltbt5Q

Footer section: Here we use sidebar footer: Go to widgets WordPress admin section, add editor box here paste code from file widgets.txt

You can install on subdomain and use our Importing file (will import all pages, posts, products, all we have in demo, without widgets, those widgets, you need to add them manually.)

Css classes

In themes/vauss-wordpress/assets/css/style.css

Please see this short video for example: https://screencast-o-matic.com/watch/cFhjlVbtpm
title_vauss
line 6613
---

about_us
line 5572
---
line 6506
html widget with code
<div class="team-box">
<div class="team-img">
<img src="http://vauss.payo-themes.com/wp-content/uploads/2018/04/team02.jpg" alt="">
<div>
<ul>
<li><a href="#"><i class="fa fa-facebook-f"></i></a></li>
<li><a href="#"><i class="fa fa-twitter"></i></a></li>
<li><a href="#"><i class="fa fa-pinterest"></i></a></li>
</ul>
</div>
</div>
<h6 class="heading-uppercase">Robert Vincent</h6>
<span>CEO</span>
</div>
---

Html widget with code, also can be found in vauss-wordpress/assets/css/style.css 6789 line
<div class="single-service-item text-center">
<div class="img-holder">
<img src="http://vauss.payo-themes.com/wp-content/uploads/2018/05/vauss-top01.jpg" alt="Awesome Image">
<div class="inner-content">
<h3><a class="title" href="#">Graphic Design</a></h3>
<div class="text">
<p>Priority interst for many organizations.</p>
</div>
</div>
<div class="overlay">
<div class="box">
<div class="content">
<div class="overlay-content">
<div class="icon-holder">
<span class="et-icon-paintbrush "></span>
</div>
<h3><a class="title" href="#">Graphic Design</a></h3>
<div class="text">
<p>Great explorer of the truth, the master-builder of human happiness. No one rejects, dislikes, or avoids pleasure itself pleasure.</p>
</div>
<div class="read-more">
<a href="#">Read More</a>
</div>
</div>
</div>
</div>
</div>
</div>
</div>
---

Click on Settings icon, choose edit row, here click on 1 column go to Cell 1 Styles add your image in tab Design and in tab Attributes in cell class add rowhover. this you can edit in the same style.css on line 7114
---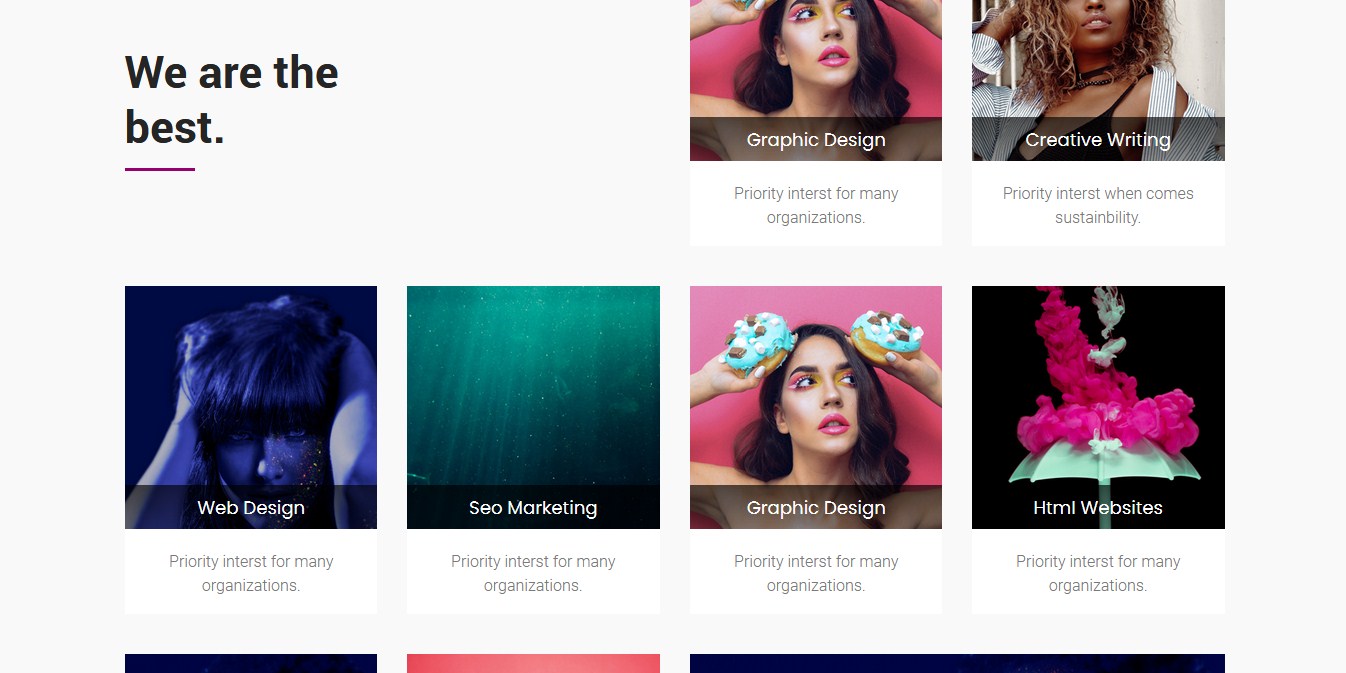 <div class="single-service-item text-center">
<div class="img-holder">
<img src="http://vauss.payo-themes.com/wp-content/uploads/2018/05/vauss-top01.jpg" alt="Awesome Image">
<div class="inner-content">
<h3><a class="title" href="#">Graphic Design</a></h3>
<div class="text">
<p>Priority interst for many organizations.</p>
</div>
</div>
<div class="overlay">
<div class="box">
<div class="content">
<div class="overlay-content">
<div class="icon-holder">
<span class="et-icon-paintbrush "></span>
</div>
<h3><a class="title" href="#">Graphic Design</a></h3>
<div class="text">
<p>Great explorer of the truth, the master-builder of human happiness. No one rejects, dislikes, or avoids pleasure itself pleasure.</p>
</div>
<div class="read-more">
<a href="#">Read More</a>
</div>
</div>
</div>
</div>
</div>
For all of this, you can find them in Import folder, also you can Import entire Page in page builder.
---
Shop css starts on 1055 line
---
Post title blog 2558 line
On line 3641 css class contact-page
Form contact is in Import folder
---
Widgets footer area

---
.title-container .title in themes vauss-wordpress/style.css on line 287

Image for title area is in themes\vauss-wordpress\assets\images

Note:

Import all content using from Import folder - demo_import_all.xml

WordPress as defaut have limitation in Import, so you need to speak with your host to make limit upload bigger, and maximum execution, to be bigger then default.

In Import folder you can see: demo_import_all.xml - this file will import all posts, pages, products, menu, page builder pages, etc

If you have slow server, you can try to import one by one from folder import - demo_import_one_by_one, or install on localhost and use Akeeba Backup and then install on your server,

Repeat: this issues is not from our theme, is only from server limitation.

Css classes : css classes are words (classes) that you can add them in siteorigin page builder - addon- Widget Styles -in Atribute field and those classes are added in css file and customised. Why? because some page builders don't offer all functions to choose color, font, size, etc so we add this class to customs. Example in addon we have css class Widget calltoaction01 in css file we can find

How to change colors in theme:

Using style.css from themes/vauss-wordpress/assets/css/style.css and debugger from Firefox or Chrome, you can find fast, line in style css, where to change.
---
How to import a page in siteorigin builder
Please see this video: https://www.youtube.com/watch?v=s5zfu_bKknE
---